Part of the 
Metro Vancouver
 Municipalities, the 
Tri-Cities
 are an informal grouping of the three adjacent suburban cities 
Coquitlam
, 
Port Coquitlam
, 
Port Moody
, along with the two villages of 
Anmore
 and 
Belcarra
 in 
British Columbia
. These five communities have a combined population of approximately 252,000 residents in 2019.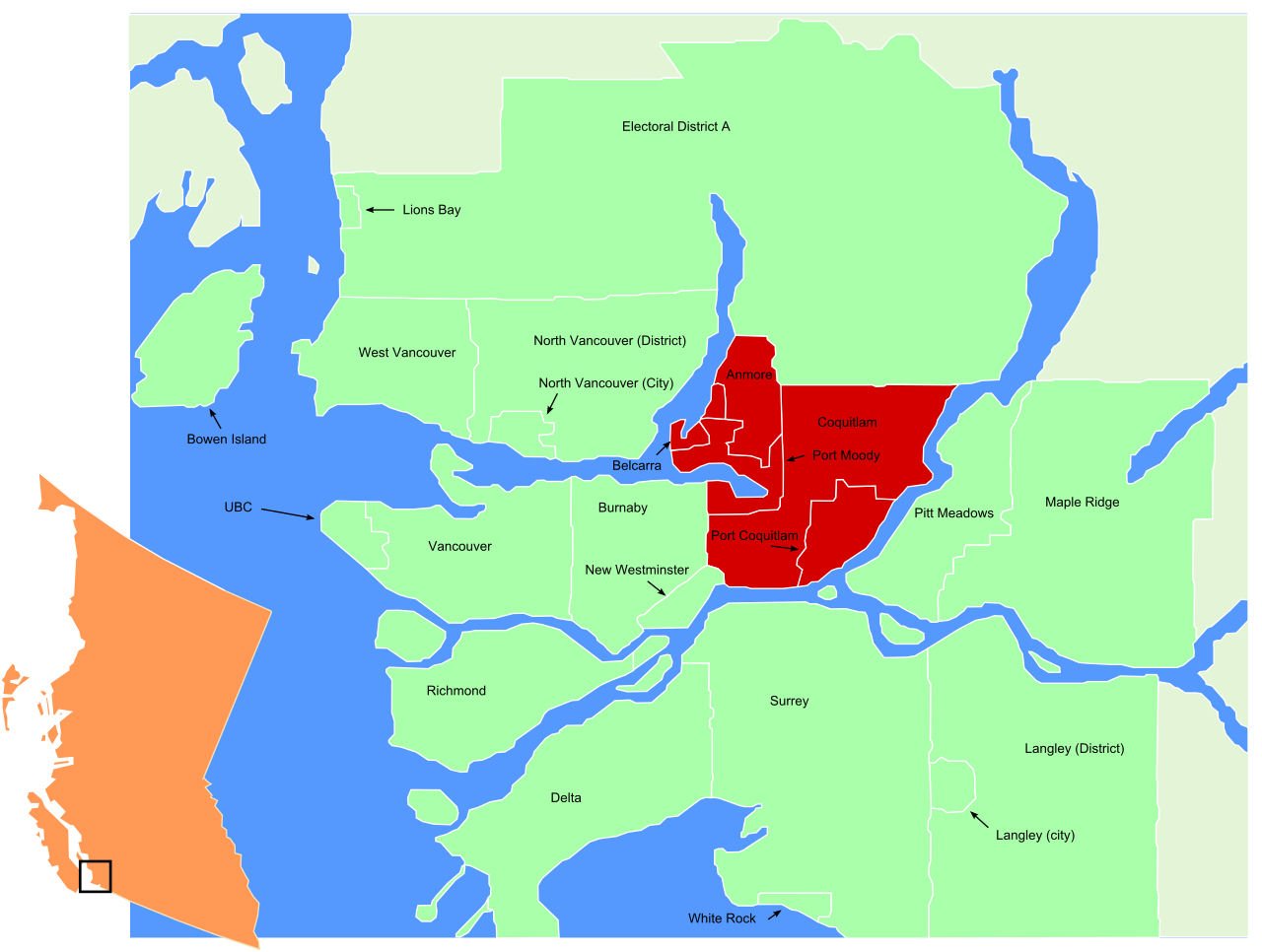 Each one unique from the other – the communities have come together as a unified region to provide the best possible suburban and semi-rural residential communities known for their extensive parkland and picturesque vistas.

With more than 90 kilometers of hiking trails, including a portion of the Trans Canada Trail, the Tri-Cities offers the kind of natural beauty and space that is not as common as you get further east into the valley or west into Downtown Vancouver. Nearly 100 municipal parks and natural areas make everything from lakeside walks and beach shore trails to waterfalls and mountain views accessible to everyone. You really don't even have to go far to find these idyllic nature spots and gorgeous views of the mountains.



Aside from the extensive parkland, lush wilderness and picturesque mountain vistas, the Tri-Cities are known for the pleasant surroundings of suburban life with plenty of accessibility, schools, parks, job opportunities, and affordable housing.

The community's friendly, diverse multicultural atmosphere makes for a rich quality of life. Home to one of the largest malls in BC, a modern hospital, churches of numerous denominations, and an extensive range of community services the Tri-Cities is one of the fastest growing communities in Metro Vancouver. With plenty of trendy condo developments and spacious single and multi family townhomes and properties the Tri-Cities are an ideal place to raise a family.

With an effective system of private and public schools commonly referred to as "
District 43
", The Tri-Cities school district is the third largest in British Columbia with 45 elementary schools, 14 middle schools, and 11 secondary schools. Close proximity to various post secondary institutions, the facilities combine to provide a much desired place to for students and residents.
Easy access to Downtown 
Vancouver
 is just one of the several conveniences of living in the Tri-Cities. 
Bus service
 in the Tri-Cities is provided by TransLink. The 
West Coast Express
, which runs from Vancouver to Mission stops at Port Coquitlam Station, Coquitlam Central Station and Port Moody Station.

SkyTrain currently passes through the southwestern part of Coquitlam into Port Moody and central Coquitlam, where it terminates at Lafarge Lake–Douglas station. The train line serves the area and connects the Tri-Cities to downtown Vancouver. It takes only 15 minutes to get from Coquitlam Central Station to Lougheed Town Centre via the SkyTrain and another 20 mins to Commercial Station in Vancouver.

For motorists, the Trans-Canada Highway, Lougheed Highway and Barnet Highway provide direct access to other municipalities in the Lower Mainland including downtown Vancouver.
But easy access to downtown Vancouver is just one of the several conveniences of living in the Tri-Cities. Coquitlam has a 
walk score
 of 53 – meaning that many errands can be accomplished on foot. Port Moody has a 
walk score
 of 52, and Port Coquitlam has a 
walk score
 of 47. Comparing that to Vancouver, which has a 
walk score
 of 78, and Abbotsford, which has a 
walk score
 of 39, the Tri-Cities fall nicely in the middle.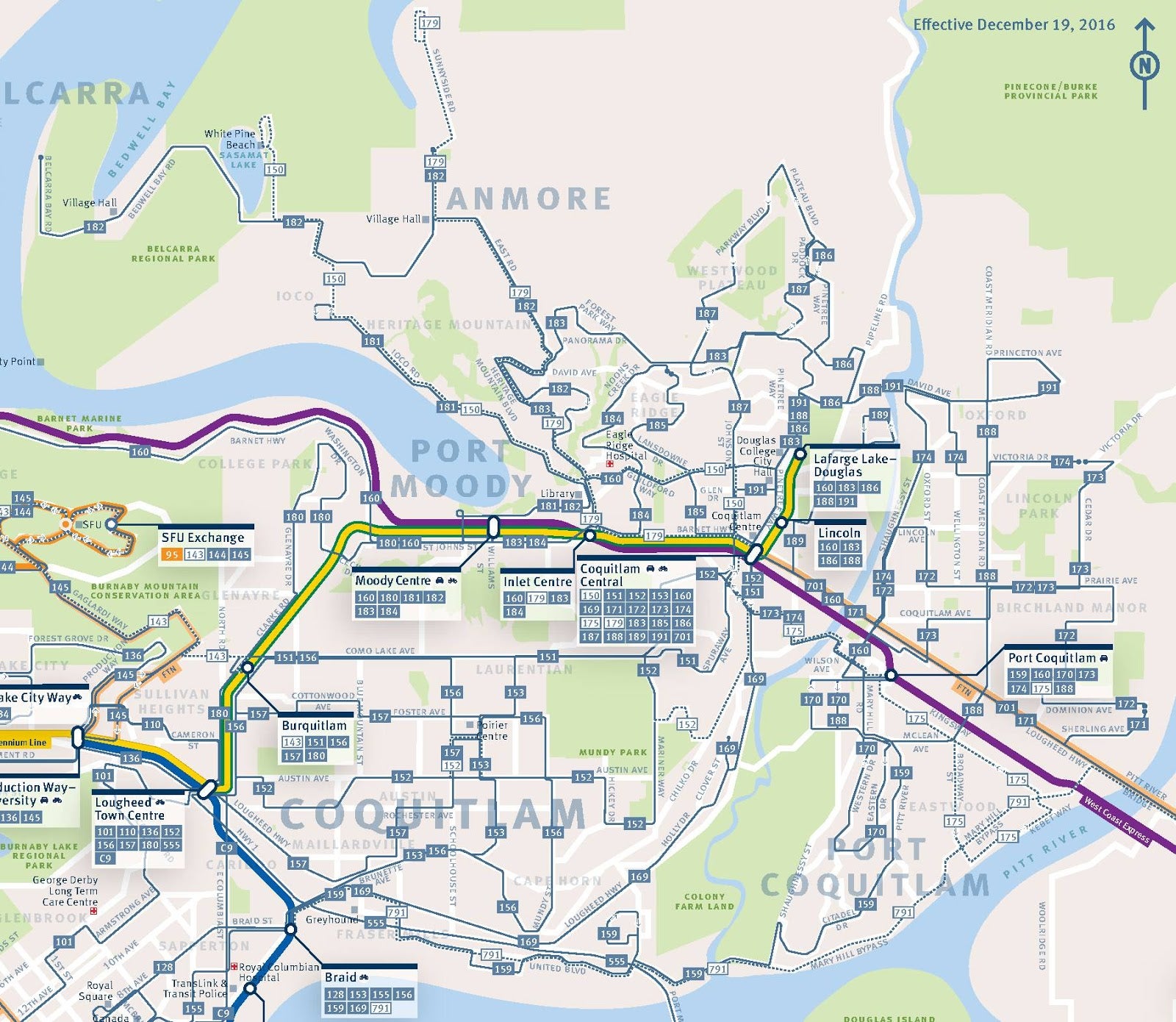 Unemployment rates in the Tri-Cities are lower than the provincial average at 6.9% when you average the three cities compared to 7.8% in the province. And it's not just that people living in those areas are working – many of them are making more money than the rest of us. Nearly 12% of people in the Tri-Cities are in the top 10% of Canadian wage earners – making more than $80,420 a year.
Of course, that might be because people in the Tri-Cities are better educated than the average British Columbian, according to the cities' 
Statistics Canada pages
. Regardless, it definitely contributes to the area's attractiveness.
Businesses and industrial enterprises located within the region are represented by the Tri-Cities Chamber of Commerce. For an in-depth look at the different economic aspects of the Tri-Cities, consider reading the 
Economic Profile
 of the Tri-Cities.
Only 30.4% percent of people in the Tri-Cities pay more than 30% of their household income making it not only affordable to buy your home – but affordable enough to keep it. Compared to Vancouver, the Tri-Cities have amazingly affordable municipal taxes and utilities.

All of these are just a few of the reasons why people continue to head to the Tri-Cities. And it's also why new developments are moving into the area to create new housing opportunities.

If interested in learning more about the Tri-cities, buying, selling or working on both we encourage you to contact us (*link to contact page)! We recognize that decision-making requires sound judgment, due diligence, an understanding of local market trends among other factors. Which is why we're confident we can guide you through your next property journey.